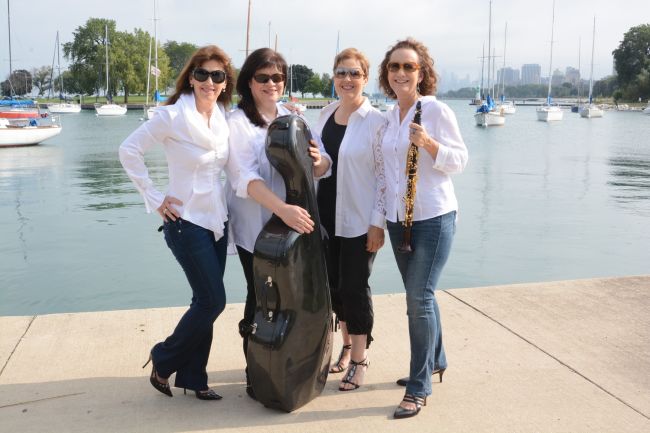 April, 2023
Thirty years ago, three young artists who were passionate about chamber music decided to present a concert of chamber works for violin, clarinet and piano—an unusual combination at the time--with so many new possibilities. Shortly after their first appearance, Orion included viola and cello, and the possibilities became endless.
Together with you, our audiences the Orion Ensemble became a landmark in Chicago's rich cultural life, and through our live broadcasts on WFMT and streaming, we are reaching people throughout the world. Our Twilight of the Romantics CD (Cedille Records) received high praises from Gramophone Magazine in London. We collaborated with some of the world's most acclaimed artists, including Dale Clevenger, Alex Klein, Michel Debost, Ian Maksin, Julia Bentley, Stephen Boe, Mathias Tacke, Patrice Michaels, Julian Gray, Kuang-Hao Huang, and many more. We created a unique and robust educational partnership program that inspires young musicians. 
And, most importantly, we expanded the repertoire for this instrumentation; we have premiered dozens of works written for us by composers including Augusta Read Thomas, Robert Kritz, Sebastian Huydts, Justinian Tamusuza, Jackson Berkey, Ilya Levinson, James Wintle, Miguel De La Cerna and so many others.
We couldn't have done it without you, our incredible audiences, board members and supporters, along with the Illinois Arts Council, the Gaylord and Dorothy Donnelley Foundation, the John R. Halligan Charitable Fund and the Farny R. Wurlitzer Foundation Fund. 
The powerful intimacy of chamber music has been at the heart of our fantastic journey and we would like to once again extend our deepest gratitude to all our musicians, sponsors, donors and volunteers who have contributed to our success!
THE JOURNEY CONTINUES!
We are so happy to have you with us for Orion's 30th season, promising a musical celebration to be remembered!
Please join us for our opening Gala Concert on September 25 at 3 p.m. at the New England Congregational Church in Aurora, followed by a special reception. You can reserve your gala tickets now and subscribe to the rest of this celebratory season, filled with beloved chamber music works!
— Florentina, Kathy, Judy and Diana
2022-2023 Season
---
Subscribe to our newsletter
---
The Orion Ensemble is supported in part by grants from the Gaylord and Dorothy Donnelley Foundation, the John R. Halligan Charitable Fund, the Farny R. Wurlitzer Foundation Fund, the Illinois Arts Council and generous donations from our dedicated patrons.