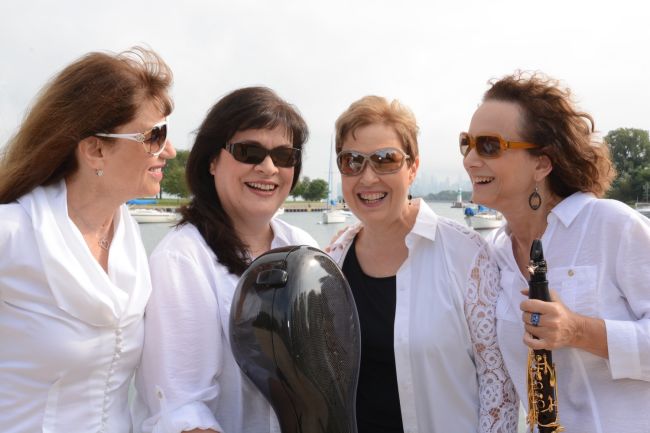 January, 2021
We are thrilled to be back with more live music!
Practicing and rehearsing individually and together brings us so much joy. We miss each other and all of you, and we hope we can play live concerts for more of our audience soon.
As you know, we had to reinvent our season and work in a very different way than we ever could have imagined, due to the unusual circumstances. But in this world of uncertainty, we know something for sure: we could not have done this without your incredible support! Orion is here to stay and make music, and we will present three more programs this winter and spring, which will be live and livestream.
PianoForte Studios in Chicago is continuing to welcome us on its stage. We can host a limited number of in-person audience members, following all COVID-19 regulations. We also will livestream the concert for audiences to enjoy in the comfort of their homes.
In addition, we have been holding master classes and coaching students through our Janet's Stage initiative, a one-of-a-kind partnership with high school orchestra programs now in its eighth year. We continue our work with Glenbard East High School, and we have begun a new partnership with Buffalo Grove High School. 
The orchestra directors of both high schools have told us that Janet's Stage has significantly helped their students, as they are unable to have full rehearsals, and they are grateful to have outside mentors. Even though we must work on Zoom, the incredible progress these students are making is inspiring.
We will do our best to keep offering our music in any way we can until we meet again in person. Our hearts are with you and we wish you well!
— Florentina, Kathy, Judy and Diana
ALSO, we invite you to enjoy access to our October all-Beethoven concert on our YouTube channel.
News
Livestreamed music: a lifeline during difficult times. Orion reviews the season and looks ahead.
Teaching students: pandemic style. Orion's education program hasn't missed a beat. Read about it, here.
After two succesful live and livestream concerts, Orion presents April 18 program
Orion's February live and livestream concert is a romantic program to lift hearts and spirits; read more!
Orion presents all-Beethoven live and livestream concert October 6, featuring pianist Kuang-Hao Huang
A Q&A features Orion's clarinetist, Kathryne Pirtle, talking about performing with her daughter, jazz vocalist Morgan Pirtle
Enjoy solos from Kathy and Diana from their home studios in these videos
Orion Ensemble cancels May concerts
Chicago Composer Sebastian Huydts discusses collaborating with Orion, in our February newsletter.
Student musicians learn from Orion
Hear Orion perform live on the program Live from WFMT tonight, Monday, Nov. 18. at 8 pm.
How do we create our concert programs? We talk about it in our November e-newsletter.
Get to know Guest Artist Josh Graham, joining Orion on Marimba and Percussion.
Learn more about Nadia Boulanger—an overlooked musical artist, here.
Our performance venues each have special qualities. Read more in our September e-newsletter.
Our May e-newsletter features a Q&A with violist Stephen Boe.
Read the Q&A with Orion cellist Judy Stone in our April e-newsletter.
Check out a Q&A with Orion pianist Diana Schmück in our March e-newsletter.
Read a review of Orion's Sept. 23 concert, by Chicago Classical Review.
Third Coast Review published a major feature on Orion— a look back at our history.
The Chicago Tribune interviewed Ensemble members Kathryne Pirtle and Diana Schmuck, as well as frequent guest violist Stephen Boe, for a story published before our season-opening concerts. Read the article here.
Check out Orion's September e-newsletter - a Q&A with Orion clarinetist, executive director and co-founder, Kathryne Pirtle.
Read a Q&A about the guest artist on our November concert series, cellist Ian Maksin.
Orion violinist Florentina Ramniceanu is featured in a Q&A in our November e-newsletter.