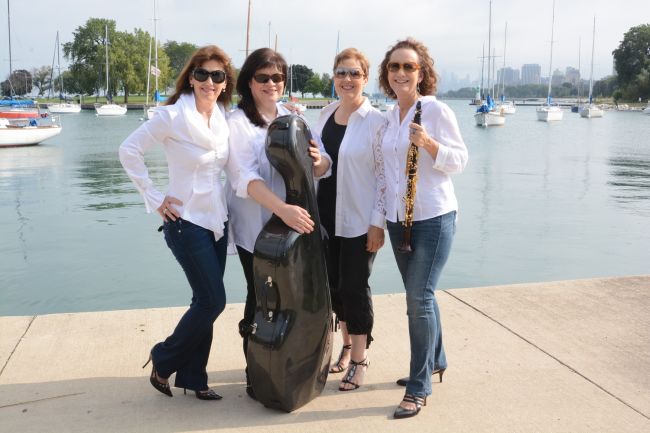 July, 2021
Welcome to our 29th Season!
Words cannot express how happy we are to bring back the powerful intimacy of chamber music, celebrating some of its most iconic works!
"A lifeline" ... "beauty" ... "meaning" ... these are some of the words voiced by our patrons last season. We believe music has the power to be a lifeline and invoke beauty and meaning in the best of times—and these qualities were even more necessary during this challenging year. When words fail, our music will connect, move and inspire us. We have never been more grateful about performing live. Our hope is that you will enjoy every musical moment together with us.
— Florentina, Kathy, Judy and Diana
News
Student chamber ensembles join Orion for May concerts.
Orion welcomes guest violist Roger Chase, featured in a Q&A in our April e-newsletter.
Check out our recent reviews! Third Coast Review and Chicago Splash Magazine
Orion discusses playing LIVE--and reaching a larger audience via livestreaming
Orion announces 2021–22 Concert Season: In-Person, Live-Streamed in Chicago, Evanston and Aurora
Livestreamed music: a lifeline during difficult times. Orion reviews the season and looks ahead.
Teaching students: pandemic style. Orion's education program hasn't missed a beat. Read about it, here.
After two succesful live and livestream concerts, Orion presents April 18 program
Orion's February live and livestream concert is a romantic program to lift hearts and spirits; read more!
Orion presents all-Beethoven live and livestream concert October 6, featuring pianist Kuang-Hao Huang
A Q&A features Orion's clarinetist, Kathryne Pirtle, talking about performing with her daughter, jazz vocalist Morgan Pirtle
Enjoy solos from Kathy and Diana from their home studios in these videos
Orion Ensemble cancels May concerts
Chicago Composer Sebastian Huydts discusses collaborating with Orion, in our February newsletter.
Student musicians learn from Orion
Hear Orion perform live on the program Live from WFMT tonight, Monday, Nov. 18. at 8 pm.
How do we create our concert programs? We talk about it in our November e-newsletter.
Get to know Guest Artist Josh Graham, joining Orion on Marimba and Percussion.
Learn more about Nadia Boulanger—an overlooked musical artist, here.
Our performance venues each have special qualities. Read more in our September e-newsletter.
Our May e-newsletter features a Q&A with violist Stephen Boe.
Read the Q&A with Orion cellist Judy Stone in our April e-newsletter.
Check out a Q&A with Orion pianist Diana Schmück in our March e-newsletter.
Read a review of Orion's Sept. 23 concert, by Chicago Classical Review.
Third Coast Review published a major feature on Orion— a look back at our history.
The Chicago Tribune interviewed Ensemble members Kathryne Pirtle and Diana Schmuck, as well as frequent guest violist Stephen Boe, for a story published before our season-opening concerts. Read the article here.
Check out Orion's September e-newsletter - a Q&A with Orion clarinetist, executive director and co-founder, Kathryne Pirtle.
Read a Q&A about the guest artist on our November concert series, cellist Ian Maksin.
Orion violinist Florentina Ramniceanu is featured in a Q&A in our November e-newsletter.