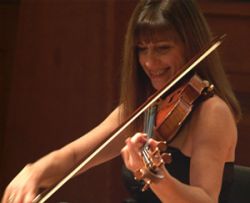 Florentina Ramniceanu
FLORENTINA RAMNICEANU, violinist, is a founding member of the Orion Ensemble. A native of Romania, Ramniceanu graduated with honors from the Bucharest Conservatory of Music. She has studied with some of the world's leading violinists, including David Oistrach, Ştefan Gheorghiu and Galina Barinowa.
Ms. Ramniceanu won the prestigious Romanian National Music Prize for four consecutive years. She has appeared in solo and chamber recitals, and has concertized extensively throughout Europe and the United States. She has performed as first violinist with the Consortium String Quartet, known for their collaboration with blues artist Corky Siegel and together with Consortium has recorded for American Gramophone.
Her recordings include performance on the acclaimed Mannheim Steamroller's Christmas Album for which she received a gold record. She is also featured on a recording for Columbia College with works by William Russo.
Now a resident of Chicago, Ramniceanu has performed in numerous nationally broadcast series and has played with the Chicago Symphony Orchestra and the Lyric Opera Orchestra, as well as performing as principal violinist with the Ravinia Festival Orchestra and the Chicago Philharmonic. Since 1990, Ramniceanu served as concertmaster for Bugs Bunny on Broadway, the live orchestra and film stage production that has since played to critical acclaim and sold-out audiences all over the world.
In recent years, Ms. Ramniceanu has also served as guest concertmaster for major symphonies in the U.S. and abroad, such as San Francisco, Washington D.C., Detroit, Houston, Seattle, Toronto, Vancouver, Moscow, London, Tokyo, and others.
She enjoys downhill skiing in Colorado with her husband, and spending time with her Scottish Terrier, Katie, her Miniature Schnauzer, Samuel, and her Min Pin, Mylo, whom she rescued from PAWS Chicago.